The right time to live is now, just the way you are, wherever you are.
Embrace today. Embrace the way you look. This is life. Right now.
This is it.
-Simply Topaz
I love fall, and even more specifically, I love November….for oh so many reasons. It is the month with Thanksgiving. It is the month with the most beautiful and warm colors. It is the month with the most perfect weather with that beautiful crisp feeling in the air. And it is the month in which I was born.
I live in the South, and it's either wet or hot in the summer, and sometimes it's both. So I began counting the days until my sweet November. And. Then. It. Hit. Me. I turn 50 this November. Wait, WHAT????? Put. The. Breaks. On.
All of a sudden my hot, wet summer is looking pretty good. It made me realize how much of life is lived like that, not appreciating what we have or where we are but always looking forward to something in the future or sometimes even just missing the past.
The same thing happens with age. We bemoan our age at every new decade. At 29, we do not want to turn 30. At 39, we do not want to turn 40. At 49, we do not want to turn 50. At 59, we do not want to turn 60. At 69, we do not want to turn 70. And on it goes. At 90, ANY of those numbers are looking pretty dang good. But when we were there, we were spending our precious time dreading the coming year and not appreciating the moment in which we were living.
In a similar vein, we do not appreciate the way we look today. We tend to not take pictures with our children, family, or friends because we do not like the way we look. We are too fat or too skinny. We do not like our eyes, our smile, our nose. Twenty years from now, we would most likely look at the picture that we never took and think how beautiful we look. We would not pick apart the way look. Oh sure, we might laugh at the fashion fads, but we would think our younger self was just beautiful. We would laugh and smile at how young we were and what a fun memory the picture brought back. And we would think that she was crazy for not liking the way she looked back then.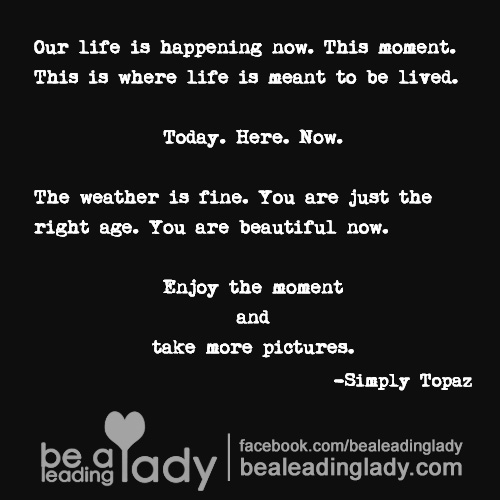 The Right Time to Live Is Now This Is It. This Moment. This Is Life. If we could realize this one thing today, oh how much better it would make our tomorrows. Oh, how full and rich our lives would be. Instead of looking back and realizing that we never started living because we were always waiting for something else to be perfect, we would have so many wonderful memories of how we were so alive and lived and loved so fully in every moment. Our life is happening now. Right now. This very moment. Here. Now. This is where life is lived.
This is it.
The weather is fine. You are just the right age. You are beautiful. Just the way you Are.
This is it.
Enjoy the moment. Take more pictures.
The right time to live is now.
We all like to think we are living like this now, but are we really? When was the last time you did something for the first time? When was the last time you challenged yourself to be brave and to go out of your comfort zone? When was the last time, you said, "Hey, let's take a picture?" I am sometimes guilty of not always embracing the moment, guilty of waiting for some magical moment in the future when things will be perfect. As I have gotten older, I realized that magical moments do not just come. We make them happen. We make our moments magical by living in them, fully present, fully appreciating the gift of that moment.
Are you embracing the moment and living your life right now?