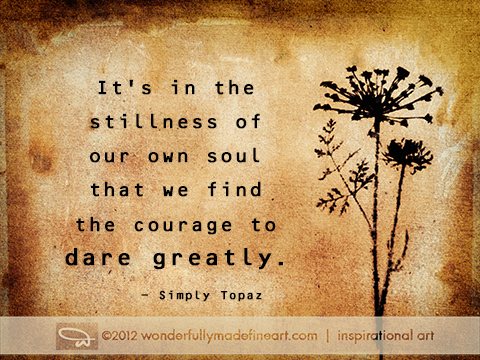 It's a wonderful thing that we are continually learning and able to experience growth. And you begin to pull all the little signs and messages together that been leading you there.
This has been my aha moment this week:
Be real. Be present.
Be in the moment.
Be comfortable in your own skin by embracing who you are with no shame and with a sense of humor.
I have a friend who embraces being real. We have been friends since we were 12 years old, and I absolutely adore this about her. No matter how embarrassing the story is, and believe me we have accumulated plenty of them, she laughs hysterically about it. She came into town last weekend and we met for dinner and drinks and had a great discussion about embracing all of ourselves. She inspires me. It's not my strong point. I tend to get embarrassed or ashamed. Yeah, I'm fun like that. She is my safe place. I can let my guard down and be real with her.
This is what this opens up in your life when you embrace it…real connections and real relationships. Sure some people may use this to feel superior to you and those relationships will not move forward but those are their issues and not ours. We showed up. It reminds me of this quote: "An enlightened woman will not seek to be understood, she just enjoys the company of likeminded people. –Casey Leasure
It makes no sense, but we do it all the time. We seek to explain ourselves and seek validation from others.
I love when you have one of those moments like I did with my friend where your eyes are open to something you know you need in your life, and then you begin to see it everywhere. I was watching the Katie Couric Show this week, and one of her guests was Brene Brown, author of Daring Greatly.
I love the daring greatly philosophy because it's about showing up. It's about going big or going home. If we are not showing up for our life, we have truly already lost. I love what Brene said daring greatly.
Brene says to dare greatly that we need to be willing to be vulnerable and defines vulnerability as: unceertainty, risk, emotional exposure. Vulnerability is being all in. It's showing up.


"To avoid criticism say nothing, do nothing, be nothing." -Aristotle
If we want to avoid criticism in our life, we are not even going to be showing up. We also must learn to ignore the critic sitting on the sideline. We are the one in the arena of our own life.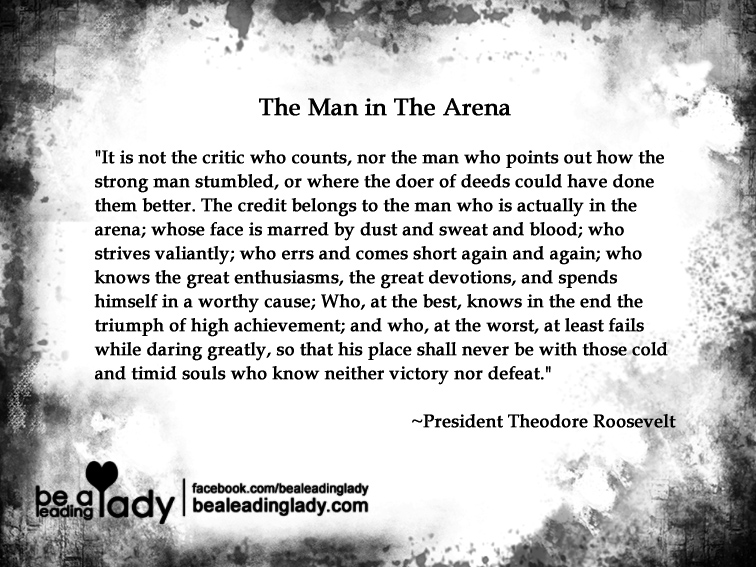 "Make no mistake it feels uncomfortable to put ourselves out there, and it feels dangerous, but I don't think there is anything more uncomfortable or dangerous, I get teary-eyed when I talk about this, than standing on the outside of our lives wondering what it would be like had we shown up." -Brene Brown
She gave the example of a character in a movie who shows up outside of a girl's window with his boombox playing a love song to woo her. As movie-watchers, we are rooting for him. It feels quite differently when we think of being the ones to put ourselves out there, but in the end that is usually where great things happen. He was daring greatly, and at least he showed up.
For some strange reason, we think we are the only ones who get nervous or have social anxiety issues, or who are dealing with depression or post traumatic stress disorder. It is simply not true. We all experience these at one time or the other, even your favorite celebrities.
We are all just human. Ad it is human to feel these things, but what is truly heroic is to be real and be able to laugh at yourself.
Lauren Graham was on The Ellen Show today discussing her social anxiety at a recent party of Ellen's. She was intimidated by Ellen and the others around her and blurted out ridiculous comments in an effort to make conversation. It was hysterical listening to her tell the story. But I love that she did. That makes it okay for me to be human and embrace it too. Even Ellen admitted to having social anxiety issues.
[Watch Lauren Graham on the Ellen Show]

No one is as together as you think they are. We are all just human.
It's all about showing up. Whether we have an anxiety disorder, depression, or other overwhelming life situations, we have the power to stop where we are and say that I am going to show up and lead my own life. To say that we are going to be real and embrace ourselves.
It is about showing up and being true to yourself, taking chances, and going outside of your comfort zone to risk nothing for something great. We're really not risking anything if we don't already have what we we want. We have nothing to lose.
I love this part of the story. Famous blogger, and one of my favorites, Jenny Lawson, also know as The Bloggess, was also with Brene on the Katie Couric show. Jenny had struggled with depression and anxiety disorder and while already a very popular blogger, struggled some days to get out of bed. She felt the dissonant cord struck in her life knowing that her husband knew, so she was very brave and shared this with her readers. It gave them permission to be real too. Which is the first step to begin any healing process. She told the story of the "sisterhood of the traveling red dress". In an effort to reclaim her life and say that she was in charge again, going totally out of her comfort zone, she had a friend make her a large red ball gown and did a photo shoot to capture her embracing and reclaiming her life. Then she blogged about the importance of going after the things we want, even if we think they are ridiculous, because we are worth it. That very dress has now made it's way all over the world so that other women could embrace the same moment.
I've always said how important it is to have these images of ourselves. I wrote in an article, A Mirror Has Two Faces, that you need to have at least one picture of yourself where you shine, not just shine on the outside, but shine on the inside, too – you at the top of your game, confident and happy. Put these pictures where you can see them every day. And, remember, you do not have to find yourself. You just have to remember who you are.
So lighten up on yourself today. Be kind to yourself. Show yourself the same grace that you would your best friend. Be brave today. Be grateful for this moment, and dare greatly.