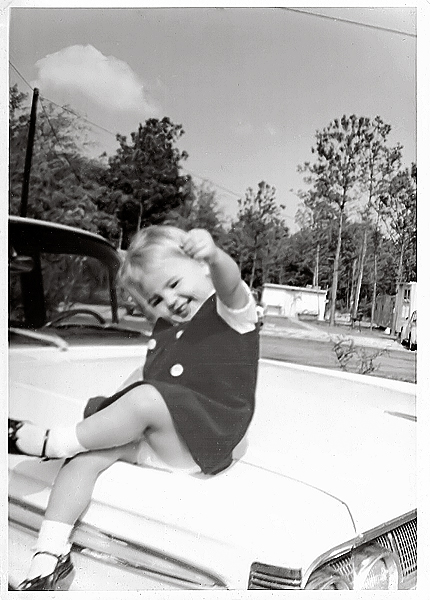 Who is this sassy, fun thing?
When I saw this picture for the first time in many years, I held it and studied it as if seeing it for the first time. I could not believe it was me. I felt much like Barbara Streisand's character in the movie, The Mirror Has Two Faces, when she saw a picture she had never seen of herself when she was a little girl. I thought, "This is me? I was cute, fun, happy, loved and confident?"
As I looked at this picture, I couldn't believe this was me.  You see, like Barbara Streisand's character, I had lost my way, too.  I had forgotten who I was.  It seemed everything I had been doing in my life for so many years was part of a journey to take me right back here – to being who I always was, this fun, happy, loved and confident person, much like what happened with Barbara Streisand's character.
Quote from The Mirror Has Two Faces:
Mother:  Do you know what I thought when you were a baby?  That you looked just like your dad, and that Claire looked like me.
Rose:  (looking at an old picture of little girl) What's that? She was so pretty, even then. Look at those eyes. Those lips.
Mother:  That's not Claire, that's you.
Rose:  Me? I never saw this picture.
Mother: I found it when I was cleaning up.
Rose:  This was me?  I was pretty?
Mother:  Your father adored you. But you know that.  He never felt that way about Claire. Only you.  I don't think he ever held a baby until you came.  He never wanted to let you go.
Rose:  I'm glad you found this.
Mother:  So am I.
Rose:  She was very pretty.
Mother:  You were very pretty. Remember that.
So, as I look at this picture of this fun, happy, loved and confident little girl, I am telling myself, "That's me. Remember that. That's the real me. The me before the ugliness of the world. The me before I lost my way. If ever I need to find myself, I need not look any further than this picture."
We all need one of these pictures. It does not matter the age you are in the picture. Just find at least one picture of yourself where you shine, not just shine on the outside, but shine on the inside, too – you at the top of your game, confident and happy. Put these pictures where you can see them every day. And, remember, you do not have to find yourself. You just have to remember who you are.
P.S. Please note the pose. This is why I cannot wear dresses to this day.
Do you have a picture of you shining? 

(originally written July 31, 2009)