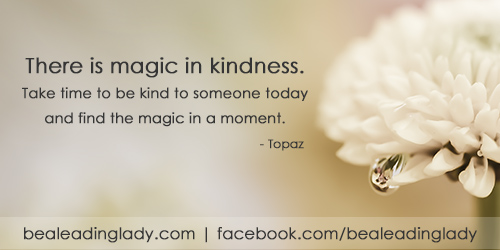 I've written about making a memory with the focus on our loved ones, but sometimes, briefly, our lives will cross paths with someone whom you will never forget. Your life is never quite the same, because for that brief connection, something happened. Time stood still and nothing else existed. It's a remarkable experience. Two completely separate lives that intersect.
Always be aware and take those few extra moments for these encounters. They tend to happen when you least expect them.
While checking out at the grocery store, I noticed the woman behind the register. She was older, much older than I expected at the time of evening that I was shopping, especially since her makeup looked fresh and like she had just arrived. I just really felt like saying something nice to her, so I commented on how lovely she looked today. Through our conversation, I realized she had been there for quite a few hours and had been up early that morning. Well, at that point, I commented on her makeup looking so fresh like she had just arrived. She told me that she had put it on around 9 o'clock that morning. At this point, I HAD to know what she used. She told me and also mentioned her son in the conversation while she told me a little about her day. Mind you, we are having this whole conversation while I am checking out with a line forming behind us. As she began to open up a little more, she mentioned her son again. He obviously loves her very much. I commented on their wonderful relationship. It was here the story began to take an unexpected turn. She told me that she lost a daughter, and she felt like they were extra close after that had happened. I told her how sorry I was. She began to open up a little more and shared how her daughter died. She was young, only 28 years old, and had just moved into an apartment. She had talked to her daughter that night and told her that she loved her and would talk to her tomorrow. That was the last time she ever talked to her daughter. She died that night of carbon monoxide poisoning due to an issue with the heater in her apartment. She talked of the importance of telling your children that you love them. This offered her a small amount of comfort in knowing these were their last words. She talked of the importance of this as she finished checking out my groceries. I have always done this myself. I don't know why, but I always have done this with those I cherish. The last words I ever said to my brother, just hours before he was rushed to the hospital and died later the next day, were the exact same as the ones she said to her daughter. As I was preparing to leave, I looked at her and said how glad I was to have met her and how much I had enjoyed talking with her. She said to look for her next time. I smiled and said I would. At this point, I looked at the line behind me and noticed the kindness in the eyes of the people waiting in line who were also obviously touched by this beautiful woman's story.
There are several morals to this story.
Take time to be kind. You never know how much you might be the one who is blessed from it. Everyone has a story, a beautiful treasure hidden inside. Take time to find it.
Always be patient while waiting in line, you never know when you just might be a witness to one of these moments. You could be the one who needed to hear the message.
Along with your smoke detector, always have a working carbon monoxide detector in your home. Tell everyone you know. It's so important and could save a life.
Always tell those you cherish how much you love them.
Grocery shopping is probably one of my least favorite things to do, but I sure would not trade that particular trip. I will forever be touched by this woman. There was magic in that moment. I'm not sure who needed it or for whom it was meant, but there was magic in it. Take time to be kind to someone and have a blessed day!