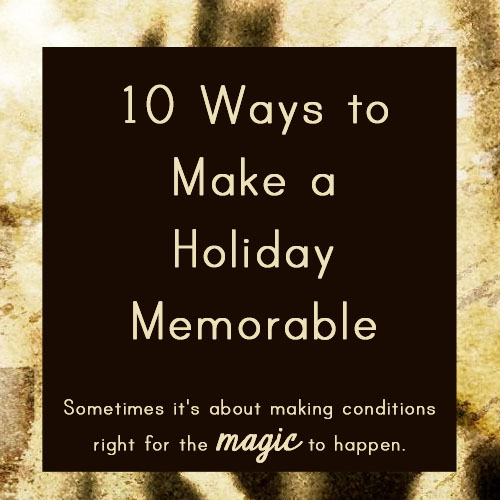 Whether your tribe is big or small, there are steps we can take to make it special and memorable. it is important to plan a memorable holiday on purpose.
Sometimes it's about making conditions right for the magic to happen.
Make the holidays what everyone looks forward to and talks about all year and what bonds everyone together. Even the planning can be fun and a great way to bond.
Our last holiday was beautifully memorable. We mixed the old and the new and made some fun memories.  I took this time while it was all fresh in my mind and wrote about my favorite part of the holiday, and I also wrote about what I would do differently on my personal blog, Where Art Meets Soul (creating a beautiful life}.
Here are some tips that I jotted down after I wrote about our holiday for my personal blog.
10 Ways to Make a Memorable Holiday
Traditions – 

Traditions give us those special things to look forward to and make it feel familiar.  Traditions can be about all of the things in this list. It can be a traditional game of flag football, the special dishes we prepare, the aromas. And never underestimate the power of traditions to unite and make the holidays extra special.

Pictures – Pictures are not only fun and important to us, but they become our memories. So many of our memories are attached to times and events where we have pictures. It keeps it fresh when we see it from time to time.  Ask a few people to be in charge of being sure to get it all captured. Setup an account on Google+, facebook, smugmug, zenfolio, or whatever account you prefer and upload for everyone to get a copy of the pictures they want. And if you really want to have some fun, setup an area for a photobooth. Oh, the fun you will have.
Games – Games are just one of those things that setup the perfect environment for hilarious things to happen. If it is an ongoing game, it even gives everyone something to look forward to each year.
Aromas – Have you ever noticed the way a scent can take you back in time? Whether it is a natural scent like cinnamon or apple, or a perfume/cologne, or food, it can transport us through time. I was cooking collards one day, not something that I do very often, and my son walked into the kitchen, smiled and said, "It smells like Granny's house." It took him back and brought up really special memories.
Food – It seems like everyone has a special dish that people just love. Do those.
Music – A little music in the background sets a tone, a beautiful tone. You will be surprised many years later when you hear a certain song, and it reminds you of a special family holiday.
Drinks – It could be hot apple cider in the winter, a special flavored/spiced coffee, or a healthy fruit concoction. I still remember the first time I had hot, apple cider. The out of the ordinary drinks are just a little something to make the day/evening special.
Reminisce – It's a wonderful time to tell those old stories and look at those old pictures.
Make a notebook or journal – Keep all of the little details and notes in it so that it doesn't have to be planned from scratch each time.
Take time to breathe. I know it is hard when we are so busy putting an event together, but delegate, plan ahead, and give yourself time to enjoy it all. Don't be afraid to ask for help. It takes a village. Even the planning can be fun if you get a group of you planning it. How fun would some nights out at Starbucks be while you laugh and plan your memorable holidays?
Mix the old with the new to keep it comforting and familiar while throwing in a little fresh and new.
With the holidays upon us, what are you doing to make your holiday family time memorable?