You are creating your future right now. Today.
I am not sure what the time frame for how long we can struggle with something…thinking on it, running it over and over in our minds when something reminds us of it, or maybe it is a negative attitude we have adopted, but I do know that if we are not careful and we stay on that path, it will change us.
What begins as a single thought today could be a way of life in 10 years.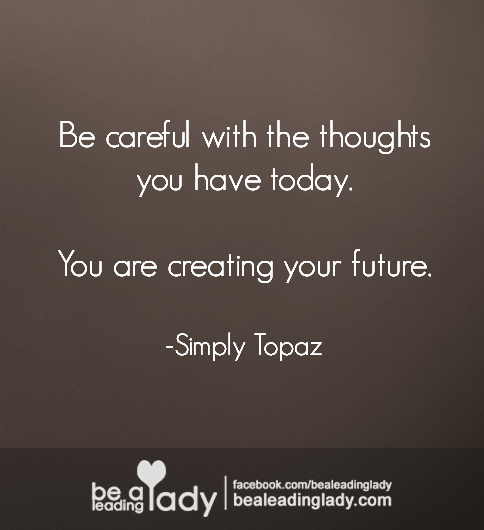 When my sons were young, I thought it was important that they learned to be givers, so we volunteered at a nursing home. On the very first day, we sat in on game time, and what I learned that day has stayed with me the rest of my life. Granted, learning to be a good student of it every day is a little more difficult, but it is always there, in the back of my mind, urging me toward a better path. As I watched the residents, I was struck at how, while they were all in the same place and dealing with similar problems, they varied tremendously in how they responded to their life. And I realize one can argue that people are just different. Yes, but we still have choices that we can make along the way. One might also argue that our environment molds us. Yes, but we still have choices. One resident in particular was the absolute sweetest woman. She always had a smile on her face and a gentle response with kindness in her voice. Another resident was outwardly angry. She was sharp-tongued and was not quiet about it. In one life changing moment, I saw my future. It had two paths. But I must choose this day. If I wanted to grow up to be the amazing older woman that I hoped to be one day, I must start living like her today. Because just as when our mothers used to tell us to stop making a face or it would freeze like that, we must be just as careful with our heart, lest it freeze like that.
I was going through a very situation at the time, but I realized, no matter what I was going through, I needed to guard my heart above all and to not become my circumstances. If I did not, my heart would freeze like that. And that would be my future. But I get to decide that today. Today. Today is the day.
The person I am today will be the person I am tomorrow and for the rest of my life if I do not make an intentional choice to change.
Be careful with the thoughts you have today. You are creating your future.
It is time today to choose the person you want to be today, and the person you wish to be when you grow old. Do you want to be that amazing person that your great-great-grandchildren will be talking about how amazing you were…how kind you were….how much you loved Jesus and the faith you had, how much you went after dreams at every age…how much you were fully alive and amazing? How much you are the person they want to grow up to be one day? We create this person, whoever she turns out to be, by our daily habits and thoughts, the thoughts and habits that we have today. Once we set a pattern in life, our heart begins to freeze like that.
We do not become those wonderful things in the future if we are not intentional about it today.
Guard your heart above all else, for it determines the course of your life. Psalm 4:23 (NLT)
I know for sure that what we dwell on is who we become—as a woman thinks, so she is. –Oprah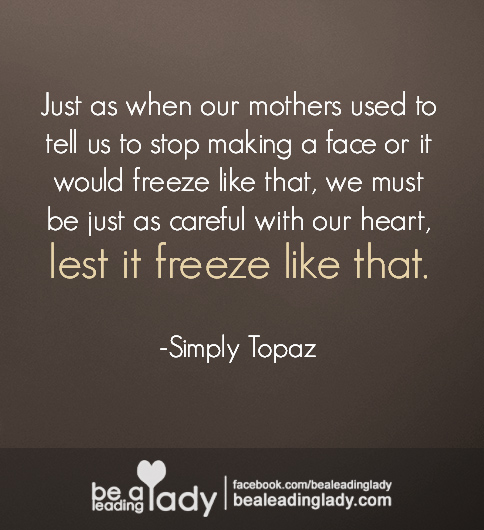 What kind of person do you want to be? Are you being her today? Will your children, grandchildren and great-grandchildren want to be like you one day?