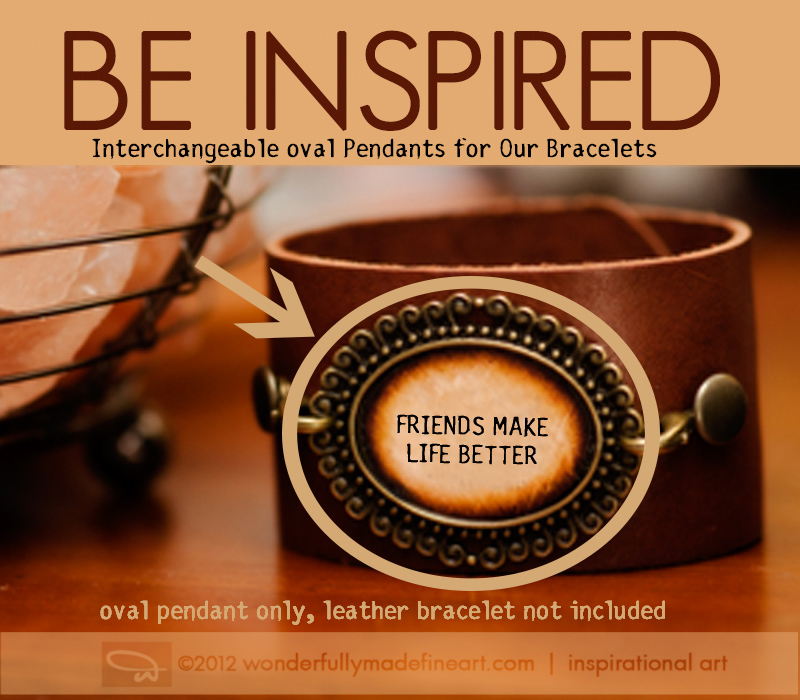 Interchangeable Art Pendant – Made Especially for our Inspirational Leather Cuff Bracelet
About
These inspiring oval pendants fit our leather cuff bracelet.
Available Quotes: (just leave a note of your choices when you checkout)
Leap Great Things Lie Ahead
Breathe
Friends Make Life Better
Be Still Exodus 14:14
Live from Your Heart
*Each art piece is covered with a clear protective dome that may or may not be show in the image but is included on the final product, just like the glass in a frame, for the protection of the art work.
**This is an example image. The actual item will be similar to this one but as all are custom made by hand, it might vary very slightly.
Custom text is also available. If you choose this option, please leave the text you would like (30 characters or less) in the notes section when you check out, and I will arrange and set font size to make it work.
©wonderfully made fine art