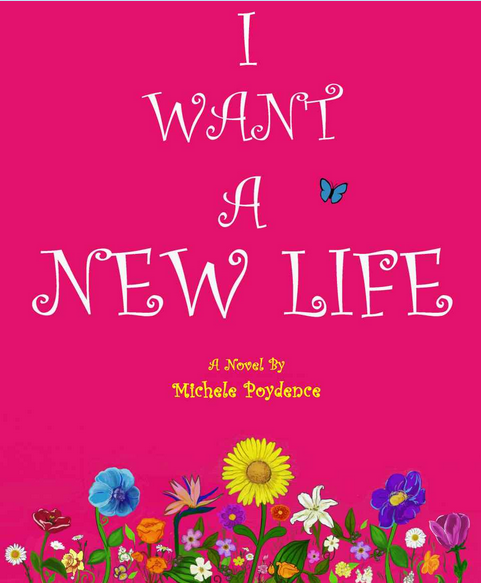 I Want a New Life, the inspirational and funny book by Michele Poydence, is a wonderful and life-changing novel about three women who dare to live their dreams, trusting God to do amazing things with their lives.
Last year, I wanted to find a novel that was inspirational. I wanted one that was not centered around a tragedy. I also didn't not want it to be a romance  novel. Oh, and if it could be funny also, that would be great. You really have no idea how difficult it is to find a book that fits that description, a book just about inspiring women to live, dream, and leap. I have no idea why there are not more books like that out there. I was SO happy to run across I Want a New Life while searching on Amazon one evening.  And now I get to share it with YOU! It was everything I was looking for and more. I loved it and was so inspired by it that I wanted to give a copy a way to one of you!
The contest rules stated that if the winner was in the United States, they would receive a print copy, and if the winner was out of the country, the winner would receive a Kindle version.
The author, Michele Poydence, contacted me after I started the contest and wanted to give a signed copy to the winner! How AMAZING is she! So I opted to choose two winners, one from the US for the print copy from the author, and a Kindle version for one winner outside of the US from Be a Leading Lady.
I am so happy to announce that we have TWO winners!
Alicia
Jolande
Congratulations to you both! I look forward to hearing how much you love the book!
This is the first day of the rest of your life. Let's change our choices and change our lives to be the person we always wanted to be, the person we were born to be. She's in there. She's been there all along. ~Topaz
Thank you to all who entered! I highly recommend purchasing a copy of I Want a New Life by Michele Poydence.  It is available in both paperback and kindle versions. I highly recommend it. You will not regret it.
I want say a special thank you to Michele Poydence, the author, for contacting me after the contest started and offering a signed copy for the US winner.  Please be sure to LIKE the I Want a New Life facebook page. She has a couple of more things in the works that you will not want to miss!
The winners will be contacted within the next 24-48 hours, or the winner may contact me with the required information.
Out of state winner: Please contact me with your email.
US winner: Please contact me with your mailing address.
Contact email: topaz@bealeadinglady.com
Contest sponsored by: