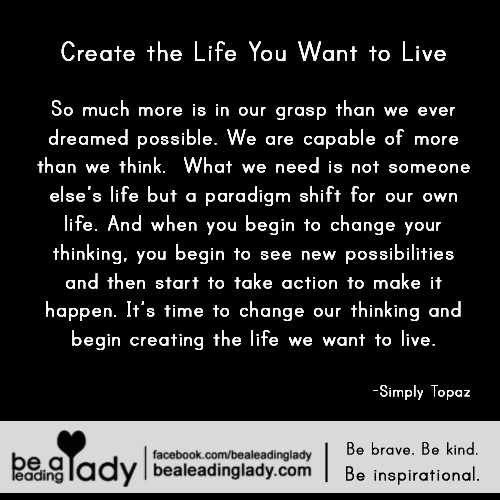 So much more is in our grasp than we ever dreamed possible. We are capable of more than we think. The worst thing we can do is accept the status quo. If it's always been that way, then that is the way it will always be…for me.
If there is something that you want, or a life you want to have, why are you just wishing for it? What if you see someone well-dressed, and think you would love to do dress well like that, but say to yourself that you don't know how? Then learn how. What if you don't have the money? Shop consignment stores and good will stores, or shop sales. Save money in other areas and start a clothing fund. Yes, maybe you won't be able to go out and get an outfit every time you want, but in time you will have put together a nice wardrobe. The biggest thing is just to learn how.
What if you want a nice house? Yes, maybe that is a much bigger issue than the clothes, but until then, work with what you have, meaning make what you have nice. I have seen amazing rooms put together on a budget when you know what you are doing. Again, the biggest step comes down to learning how. A little cleaning, decluttering goes a long way. Add a coat of fresh paint to that, and you have a great foundation. Many of us are content to say, "I just don't know how to do that." Were you born knowing how to read or write? No. You learned how. And you can learn anything else, too. The only thing that is stopping you is you.
And let me offer you a word of caution about the naysayers. Some will say that you need to be happy with who you are, and they will proudly boast how they are. Well, for one, how do we know the way you WANT to be isn't the real you? Maybe the person you are now isn't the real you. Maybe right now, you are a product of negative things in your life that got you stuck. And two, these people that tell you to be happy with the way you are, like they are, are rarely as happy with themselves as they say they are. Many times it's just bravado, and is a learned response. And who's to say that they wouldn't benefit from a little change themselves? Ignore them.
What if we want to grow and be a better person, letting go of the things that have held us back for far too many years? Anything is possible. The changes in my life over the last couple of years have been amazing. The things that I have written about on the Be a Leading Lady website are the things I have done or have learned, and it's been an amazing journey, a journey that anyone can take. My life is far from perfect, but it's what I am choosing to make out of myself and the life I am creating that makes it a life worth living, a life that makes me happy. We must live life on purpose if we want to be happy. Create the life you want to live.
It's not the life you're given that matters as much as what you do with it. If you took any of the people that you admire and placed them in your life, playing your part, they would begin creating a different life. Likewise, if you were placed in their life, it would begin to look just like the life you have now. It's us that we must change if we want a different life.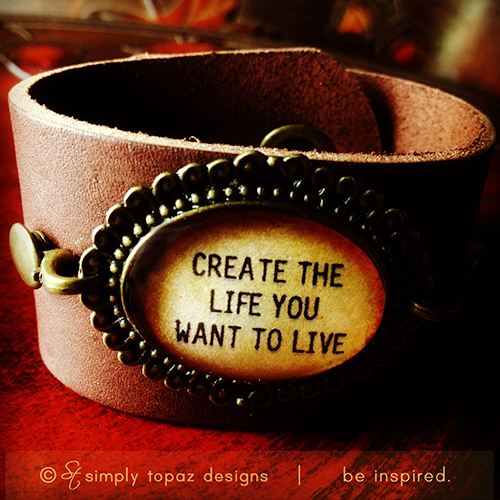 What we need is not someone else's life but a paradigm shift for our own life. And when you begin to change your thinking, you begin to see new possibilities and then start to take action to make it happen. It's time to change our thinking and begin creating the life we want to live.
What do you want to change in your life today? What do you want to be better tomorrow, and what steps today can you start taking to make that happen?