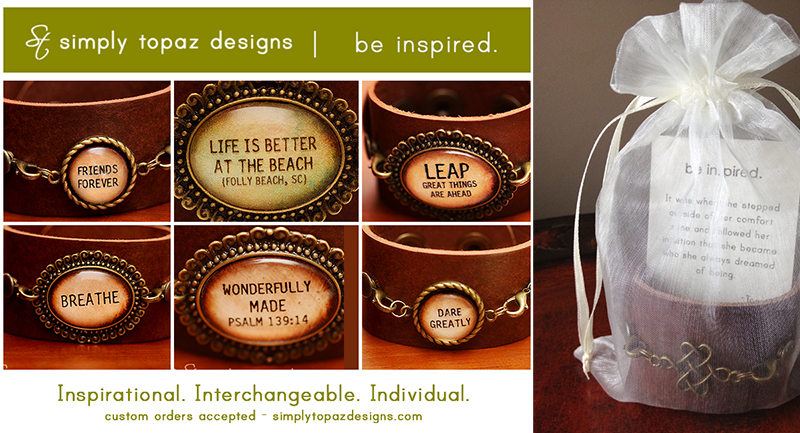 It can be so difficult finding that wonderful and inspirational gift that is off the beaten path, that gift that you just might not think of normally when you are shopping. I know. I just went through it myself. I know that not every gift I give will be inspirational, but I do love to find a great inspirational gift when I can. I think they do more than fill up our valuable space, they give the gift of inspiration throughout the year. So I decided to share with you the gold gift nuggets that I found on my journey and will keep adding more as I go.
These are also great ideas for the difficult person to buy for!
Inspirational Leather Cuff – The PERFECT Handcrafted Gift Idea! Give the gift that will inspire and encourage them all year long!
Flameless Wax Candle – This just makes me feel good, and I don't have to worry about forgetting to turn it off. Many flameless wax candles come with a remote and timer. How cool is that!
The Things That Matter by Nate Berkus – A different kind of home design book
Wireless Keyboard and Mouse – This is great for the person with a desktop, or a person with a laptop who works a lot on it and wants to get the keyboard and the screen placed more ergonomically. This one may not seem inspiring or comforting, but when you are a writer with carpal tunnel, or wanting to prevent wrist injury, trust me, getting your wrists and hands at the correct level while keeping your head and neck straight is a beautiful thing.
Comfy throw – I purchased one last year or the year before from Target, that I'm pretty sure they do not sell anymore, and I love it so much! I have never loved a throw this much in my life.Stay tuned….as I find more ideas, I will be posting them. Please feel free to post your ideas in the comments! They might even make it to the list!
A Special Box – I have loved special boxes since I was a little girl. It was like going treasure hunting, and to this day I am a huge fan of them. I have some the boys made for me when they were little, and some I have bought. I love them and use them all.
Also, take a peak at our recommended reading list for great book ideas.