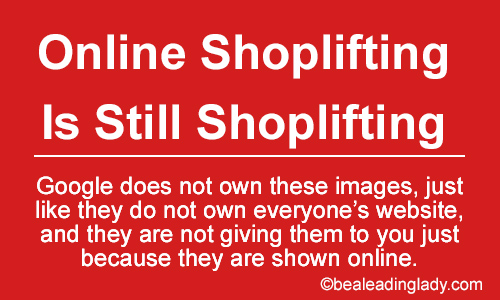 There are a lot of good and well-meaning people making some grave errors that could result in them being sued. I know they wouldn't want that, and I would not want that for them. As a photographer, I might be able to shed some light over some misinformation and misunderstanding concerning using someone's image.I will share some general guidelines that should help to keep you out of trouble
Many people make the mistake of thinking that just because they found an image online that it is free. This is not the case, even if you found it on Google or Bing Images, Facebook, or Pinterest. It is still someone's work. It is how they make a living, put food on the table, and provide for their families in a very hard and competitive industry with many expenses. Not to mention, they may not agree with your post or your page and may not want to lose control of what exactly and where the image is used.
Another thing to consider, the release they have from a client may not even cover it being used for purposes other than the photographer's portfolio. Can you imagine a client running across a picture of their child being used all over the internet, without their consent? Some photographers will be okay with their image being used for credit and a link, but always ask before posting a picture. They could also want to resize it for you so that it cannot be printed at a high quality, or even want a watermark left on it. Once they give you permission to use it, they lose some control over the image. Others will also begin to use it, without permission. The only pictures that I use for quotes are my own or ones off of public domain sites, meaning they are free for us to use. This is not the same thing as just finding them anywhere online. These are sites setup specifically for images where people have given express permission. There is usually an exact terms of use for each image.
I actually read a story recently where an image was used without permission and not only did they have to remove it, but they had to pay quite a bit of money. It's always better to be safe than sorry. Printing the images for your own personal use is also illegal. It is stealing and is no different than walking into a store and stealing a picture. As a general rule, do not download images to your hard drive without permission from the photographer. At this point, any credit for the work done is usually gone because it is no longer linking to the original work or photographer. As much as it seems okay for purposes to help others, we cannot be the one to make that call with another person's blood, sweat, and tears. We can only give away what we own, not what others own. That person may give plenty in other areas. This would be no different than someone taking your hard work and giving it away and telling you that you are wrong to be upset about it because it is helping others. While you are busy running their lives and business, you might want to come up with a plan as to how they are going to put food on the table while others are giving away their work.
Placing comments such as this on your website or page, offers you zero protection from being sued:
"Disclaimer: We, I, own no copy rights to these photos. All copyrights belong solely to the owner/owners of the images."
The big question there would be…
Then why are they on your website or facebook page without permission?
Another comment that I see commonly used is…
"I'm stealing this!"
As if that makes it okay. It does not. I promise. Trying walking into any department store and using that one. A simple way to share somewhere like facebook is to use the share button. It gives the original poster credit, and you are not stealing it by saving it to your hard drive. Otherwise, don't do it without express permission to do so.
Sadly, there will be many who this information angers. They are usually the biggest offenders. There are others who have honestly never thought about it and will appreciate being educated before they get themselves in a legal battle.
No matter what camp you fall into, if you want to help avoid a legal battle and being required to pay restitution, you might want to follow these guidelines.
General rules to follow:
Do not download images to your hard drive. At this point any credit for the work done is usually gone because it is no longer linking to the original work or photographer.
Do not print images that you find online. These are usually images that are offered for sale. To print without purchasing it is illegal.
 Ask for permission from the person who owns the image. You will be surprised. Many times you may get a yes with certain conditions, such as a company logo on the image along with a link. I would even offer this things up front.
If you are a page admin on facebook and are looking for posters to share, try making your own. Here is a great project for creating our own inspirational posters or prints.
Pin It