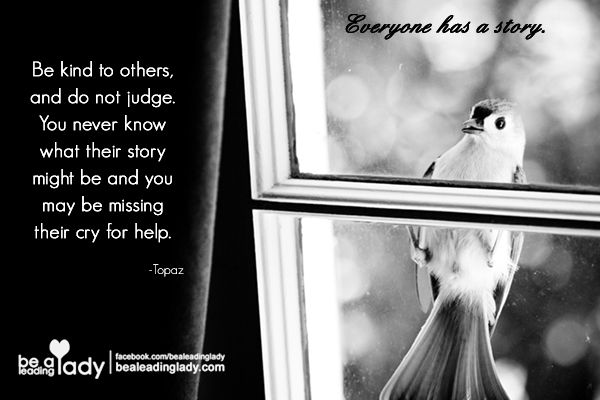 Everyone Has a Story
Shortly after I woke up one morning, I noticed a bird at the window. I'm not going to lie. I thought he looked a little crazed at first glance. Two words entered my mind: Bird flu. While I'm not really sure what that is, I'm thinking this bird possibly either had that or rabies. Again, I have no idea what I am talking about. Honestly, I don't really notice the birds outside, so I'm not sure what this particular bird normally looks like. He could always look like this or just be having a bad hair day. It's not unusual to have birds flying around our windows from time to time, so I did not think much of it, except that on this particular day they would not go away. They sounded like they were going to come through the window at any minute. I have seen the movie "The Birds", and the scenes are starting to flash in my mind, except that these have the bird flu. This went on for a couple of hours. Now all I was thinking at this point is that this can NOT be their new thing to do all day, every day. We shewed them away. They came back. This went on for hours.
This image was the very few seconds this bird was still. It would come to the window and while looking inside, it would wildly flap its wings as if he were trying to fly through the window and would not leave.
Everyone has a story.
After repeatedly shewing them away for hours, a small, injured bird was noticed on the ground near the window. It appeared to have flown into the window and was dying, and this is why the other birds were acting crazy. What appeared to be an annoying and crazed bird flapping wildly at our window, was just a bird that cared about another bird, an injured bird, possibly a friend, a partner, or a child, and was sending out a cry for help. Everyone has a story.
This made me stop and think. How many times does this happen with the people in our path? How many cries of help do we not notice or misinterpret? Whether it is the cashier, a customer service representative on the telephone, or the driver who just cut us off, or even a friend, we have no idea of the day they have had or what is really going on in their lives. Everyone has a story, and there is always more to a story than you know. It is far better to err to the side of compassion than to miss an opportunity to show kindness to someone who needs it.
Everyone has a story.
Are you missing someone's cry for help? Or is someone missing your cry for help? What is your story?
Pin It