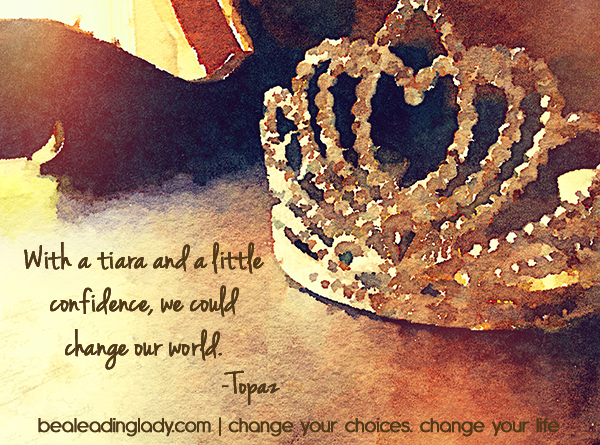 With a tiara and a little confidence, we could change our world. -Topaz
There is a little girl in all of us whose heart still skips a beat at the fairy tale story of a princess. We were captivated by Princess Diana, and we are enamored with Princess Kate. Who does not want to be that girl?
Even now, no matter how old we are, there is still a little something in us all, who wants to be the princess in the story, who wants to be the princess in our own story. When we watch a movie like Princess Diaries or The Prince and Me, there is still a little girl inside imagining for a second what that would feel like.
We get older and realize it is not even all about a prince charming.   Princess Diana definitely did not have a fairy tale marriage, but we were enamored with her, not her Prince.  And in the first Princess Diaries, there really is no significant love interest. It is about her. It is about being that girl…the way she walks, the way she talks, the way she acts. She is a leading lady.
What we are really wanting to be is a leading lady.
In these stories, while there is a title, is it the title that really matters? Even when Princess Diana was no longer a princess, she was still a princess in our hearts.  And that is my point. When we want to be the princess in our own story or the leading lady in our own story, it is about how walk, talk, act, and how we carry ourselves.
It begins with a decision, a decision to let our inner princess out, our leading lady.
Then there must be action. We must be intentional about the way we live and the choices we make.
Read an etiquette book.
Be intentional with your style.
Be a kind person.
Set aside some of your time for others, for causes, for something bigger than yourself.
One of our local news anchors, Octavia Mitchell, recently was the Mistress of Ceremony at a winter gala. She looked like a princes complete with her coach. I remember looking at these pictures and thinking to myself that every woman should have that moment, the moment where she is dressed like a princess, complete with the dress and a tiara, and the coach was a nice touch, too. Or she should know what it feels like to walk the red carpet. Or to have paparazzi following her taking her picture. I remember watching  The Talk once, and Melissa Peterman who played Barbara Jean on Reba was sharing a story of when Reba invited her out on stage at a concert of hers and how everyone applauded and cheered and how fantastic it was. She said everyone woman should know what that feels like. There should be a place where any woman could walk up on stage and be cheered and applauded. I loved her for saying that. Whether we do any of these things (which I absolutely think we should) or not, know that you are still just as amazing as every princess, and you are the leading lady of your own life.
Shine on, my beautiful friend. Shine on.